THE KAIROS INTERVIEW
About Bob Stein

Once called a "visionary" by Wired, Bob Stein has been at the vanguard of numerous efforts to explore the changing nature of publishing in the digital age. As a co-founder of The Voyager Company in the mid-1980s, Stein helped produce an innovative series of interactive CD-ROMs and films on laserdisc; its catalogue became the basis for the Criterion Collection, the renowned producer of special-edition DVDs of notable films. After leaving Voyager, Stein founded Night Kitchen, which created the TK3 multimedia book-authoring tool. In recent years, he has directed The Institute for the Future of the Book, which describes itself as "a small think-and-do tank investigating the evolution of intellectual discourse as it shifts from printed pages to networked screens." There, he developed tools such as CommentPress (the WordPress theme used to publish this interview) and Sophie (a multimedia authoring tool), and fostered projects such as MediaCommons and In Medias Res.
On August 16, 2010, I visited Bob Stein at his home in Williamsburg, Brooklyn to discuss his work on electronic texts, his experiences as an early publisher of digital media, and his thoughts about the future of the book.
About the Interviewer
Matthew K. Gold is Assistant Professor of English at New York City College of Technology, CUNY, and a faculty member in the Interactive Technology and Pedagogy Program at The CUNY Graduate Center. Recent and forthcoming work includes articles in The Journal of Modern Literature and On the Horizon, and a chapter in From A to <A>: Keywords of Markup. His projects include Looking for Whitman, a multi-campus experiment in digital pedagogy sponsored by two NEH Digital Humanities Start-Up Grants, and a recently awarded Title V Grant from the U.S. Department of Education. He serves as Project Director of the CUNY Academic Commons.
Navigating the Interview and Leaving Comments
To begin reading the interview from the home page, use the Table of Contents in the box to the right. When on an interior page of the interview, use the silver navigation bar at the top of the page to move from one section to the next.
The table of contents may be accessed at all times from the silver navigation bar at the top of the page (click on the icon that looks like the pages of an open book
). Click on the title of the interview at any time to return to the home page.
We invite your comments on the interview. Comments may be targeted towards specific paragraphs in the text by clicking the comment icon in the left-hand margin of each paragraph (
). Comments from readers may be found in the right-hand margin of each page.
If you're having trouble navigating the interview, please consult this annotated screenshot: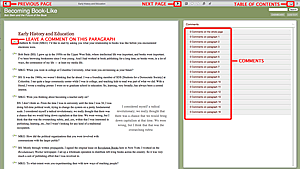 Back to Kairos 15.2