Teaching at Lingua MOO

One of our most important goals at Lingua is to make teaching innovative, interesting, creative, and productive. We hope that students and teachers, scholars and research assistants alike find that the design of Lingua MOO enables them to find things and people easily. We also hope that the classroom spaces at Lingua combine both the "feel" of a traditional REAL classroom with the cutting edge of a VIRTUAL classroom. In keeping with our humanities and rhetorical theme, we call this area of the MOO, the Agora, after the classic Greek forum for public debate.
Thus, pedagogical reality is partially constructed from the visual familiarity of a real physical classroom space (evoked through ASCII maps in the Agora complex), but also deconstructed by an intelligence that the room provides whether a teacher is present or not. For example, when a student types 'help here' in the MOO classroom, they will find a list of commands that explain how to write on the blackboard, how to tell the time, where to sit for private conversations with small groups, and so forth.
My improvement in the class was a direct result of the opportunity to speak out (sometimes totally against everyone else) at times when I would not have attempted to do so. It was like unraveling some fear of speaking that was holding me hostage. Curtis Pletcher, student UT Dallas.
Teachers who use this feature also find information about setting configurations for seating, turning on 'in session' signs, restricting certain verb commands, and adding notes to a bulletin board, among other things. Partial moderation of the room is also possible, making it convenient for small groups to discuss in private or 'speakup' to the room at large.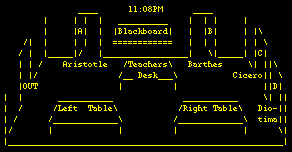 (Credit for this programmed classroom goes to Ken Schweller of Collegetown MOO, and many educational MOOs benefit through his willingness to share the feature with others.)
The teaching tools available in the MOO introduce innovative pedagogical methods for writing instruction. At Lingua MOO, Jan has created a special Recording and Intercom system in the Agora complex. Teachers who use group rooms connected to the main classroom may record discussions in all five rooms or any combination of them. In addition, they may turn an intercom on between the classroom and one or more of the breakout rooms, giving them opportunities for participating in their students' discussions or making general announcements to specific rooms or to all the rooms at once.
Other valuable tools for teaching involve MOO slide projectors (enabling teachers and students to project slides of text to all users in a room), MOO lecture devices (for recording pre-scripted lectures), recitable notes (for creating recitable poetry, fiction, etc.), and a host of other generic objects available in the Generics Archive at Lingua.
Back to the start page